Residential Roofing in Chapel Hill
Residential Roofing Company
Residential Roofing Chapel Hill, NC
At Carolina United Roofing and Construction, we are proud to be one of the leading and most trusted residential roofing contractors operating through Chapel Hill, Durham, Carrboro, Hillsborough, and Mebane. With more than a decade of experience in the roofing trade, we have earned an enviable reputation for outstanding customer service, high-quality roofing work, and competitive, fair, and reasonable prices.
Residential roofing provides more than just an aesthetically-sound top to your home; it is there as a protection against your property from the elements, intruders, and pests like birds and rodents. Given the changeable climate and weather conditions in the Chapel Hill area and beyond, your residential roofing can experience various difficulties. These include the sun's UV rays, strong winds and rain, ice, sleet, snow, hail, and non-weather issues like pests and falling branches. Any one of these issues or a combination of more than one can spell trouble for not just the roof but the whole property. If issues with your residential roofing are not addressed in a timely fashion, they can lead to more expensive and serious issues further down the line.
Instead of putting your home, family, and household members and possessions at risk, turn to a roofing contractor you can trust.
Our residential roofing services include:
 

Roofing replacements

 

Roofing maintenance

 

Shingles roofing

 

PVC Roofing

 

TPO roofing

 

New roof construction and installation
Residential Roofing Hillsborough, NC
Look no further than Carolina United Roofing and Construction if you are in the market for residential roofing services from a company you can trust. We have the local knowledge, experience, license, and skills to deliver a second-to-none service and roofing repairs, installations, and maintenance that will improve the security of your property.
Whether you need roof repairs, replacements, or new installations, Carolina United Roofing and Construction has the experience and proficiency to handle projects of any scale with precision and efficiency. We use only the finest materials and cutting-edge techniques to deliver results that surpass expectations.
With over a decade of expertise in the roofing industry, we take pride in our excellent customer service, top-notch roofing craftsmanship, and competitive and transparent pricing.
As a local roofing company, we have a deep understanding of the unique roofing challenges faced by homeowners in Chapel Hill, Durham, Carrboro, Hillsborough, and Mebane. Our knowledge of the area enables us to deliver tailored solutions that best suit the local climate and architecture.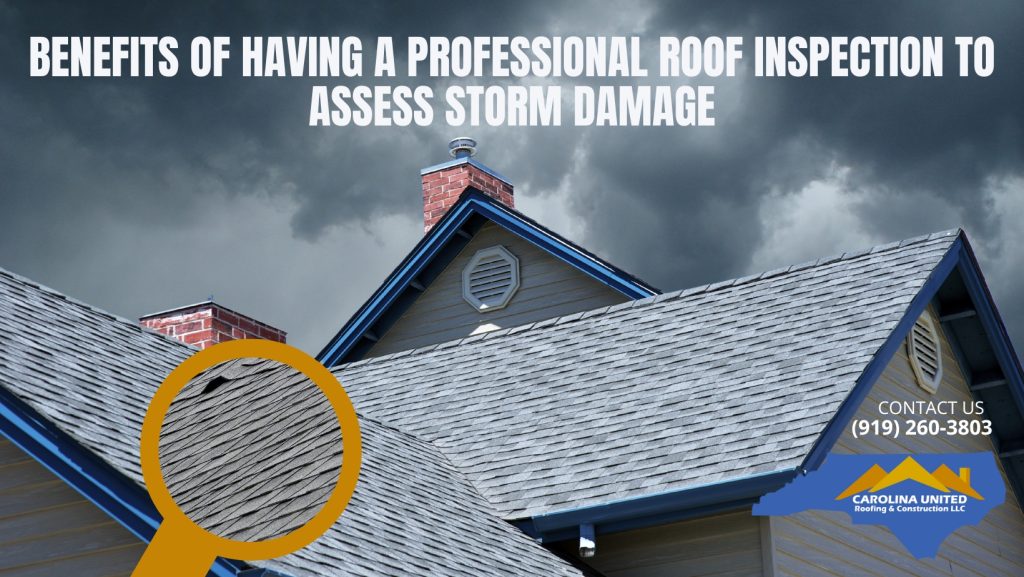 Contact Carolina United Roofing and Construction Today!
Your satisfaction and the integrity of your home are our top priorities. When you choose us as your residential roofing partner, you can rest assured that you are in capable hands. Experience the difference of working with a roofing company that values your needs and delivers on its promises. Contact us today for a consultation, and let's transform your roof into a secure and stunning asset for your home.
As one of the leading roofing contractors in the region, we are committed to delivering exceptional roofing solutions tailored to meet the specific needs of each homeowner. Our team of skilled professionals is dedicated to ensuring the longevity, durability, and beauty of your home's roof, providing you with peace of mind and protection against the elements.
At Carolina United Roofing, we prioritize our customers' needs and preferences. We work closely with homeowners to understand their requirements, offer personalized roofing solutions, and ensure their satisfaction throughout the entire process.
High-Quality Materials: We use only the finest roofing materials from reputable manufacturers to ensure the longevity and durability of our roofing projects. Our focus on quality ensures that your roof will withstand the elements and protect your home for years to come.
Have Any Question For
Project Plan In Your Mind?